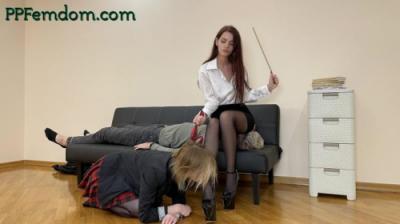 Year of production: 2021
Genre: Femdom, Lezdom, Facesitting, Spit, Foot Fetish
Duration: 12:38
Cast: Mistress Sophie
Description: Imperious and strict night school teacher Sofi teaches obedience to her two subby students – a guy and a girl. The plans of the perverted female teacher are to raise a slave and a slave-girl for herself. Therefore, while parents think that their teenagers are learning knowledge – in fact, every day the submissive girl and boy turn into slaves for their teacher. First of all, the strict Sofi sat down on the sofa, and ordered her submissive students to kneel in front of her and kiss her feet. To further humiliate her young slaves, Sofi spits on the head of the schoolgirl while she kisses her Mistress's shoes. Then, using the advantage of owning two slaves at once – Domme Sofi took them by the hair and pressed the face of the slave girl to her pussy, and the face of the slave guy to her ass (pussy worship lezdom and ass worship femdom) . Then the cruel teacher changed roles for her slaves, now the slave guy became a human furniture for her (for facesitting), and the slave girl became a foot-servant for the Mistress's legs. The narcissistic teacher sits on the student's face while the schoolgirl kisses and licks her feet. Then, for fun, Sofi put her hands on the face of the slave guy for hand over mouth smother. To support her femdom power and permissiveness, the teacher Sofi often spits on her slaves, both in their faces and on any part of the slave body. It's gorgeous group role play female domination and lesbian domination at the same time.


HD video type: 1080p
Video quality: HDRip
Video Format: MP4
Video: MPEG4 Video (H264) 1920×1080 60fps 15188kbps [V: h264 main L4.0, yuv420p, 1920×1080, 15188 kb/s]
Audio: AAC 44100Hz stereo 320kbps [A: SoundHandler (aac lc, 44100 Hz, stereo, 320 kb/s)]